Building a home is an exciting challenge, and financing it doesn't have to be daunting. Together with Kiwibank, we've compiled this no-jargon beginner's guide to construction loans.
For many people, building their own home is at the top of their wish-list. They dream of a place that will express their style and embrace their lifestyle. Being involved with the architectural builders from the get-go is exhilarating – a project that brings a real sense of satisfaction and reward. While financing a build is a little different to applying for a mortgage on an existing property, it's not the overwhelming process you might think. Just as a design-and-build home is shaped individually for you, so is a construction loan that can be adapted to your specific financial situation. With the bank alongside you on the journey, you'll have a roadmap to the finish line and any challenges can be tackled together. So let the adventure begin.

BEFORE YOU BUILD
Over the past 12 months, 7% of Kiwibank's new home loan customers have opted to build. While some of these construction-loan customers are first-home buyers, the majority already own their home, so they'll need to work out how to manage an existing home loan alongside the new construction loan.
A construction loan is drawn down in stages; the loan balance increases as the build evolves. This makes sense for two reasons: "Since the lending is drawn as it is needed, it saves the borrower interest," says Richard McLay, Home Loans Product Manager at Kiwibank. "Plus, it's a good way for the bank to know that the build is on track."
When you go through the lending-approval process, the bank will evaluate the viability of the project. For starters, they need assurance that the building company their prospective customer is dealing with is a certified builder.
"At Kiwibank, we assess the contracts to see what is included in the build," says Richard. "We want to make sure that whoever is going to construct the home does so in a cost-efficient manner."
To give you the big tick on funding, the bank will need quotes from the multiple parties involved. Of course, because Box™ is a one-stop design-and-build shop, it's so much easier to organise.
Once the numbers are all in place, the bank will build in a contingency fund of between five and ten percent to allow for any unforeseen additional costs.
To keep cashflow rolling, it's a good idea to ensure you have the right structure for your loans. While you're waiting to move into your new home, one option is to put the construction loan on interest only.
"We understand that our customers already have living costs, so while the building is being constructed, this lessens the strain on finances," says Richard.
DURING THE BUILD
Once your build is underway, the construction loan is drawn incrementally from invoices that match the contract; this is known as schedular payments. The customer receives the invoice from their building provider and gives it to the bank for payment. These are made by the bank to the construction company when certain milestones are met. The milestones will be pre-agreed, and each payment is authorised by the customer.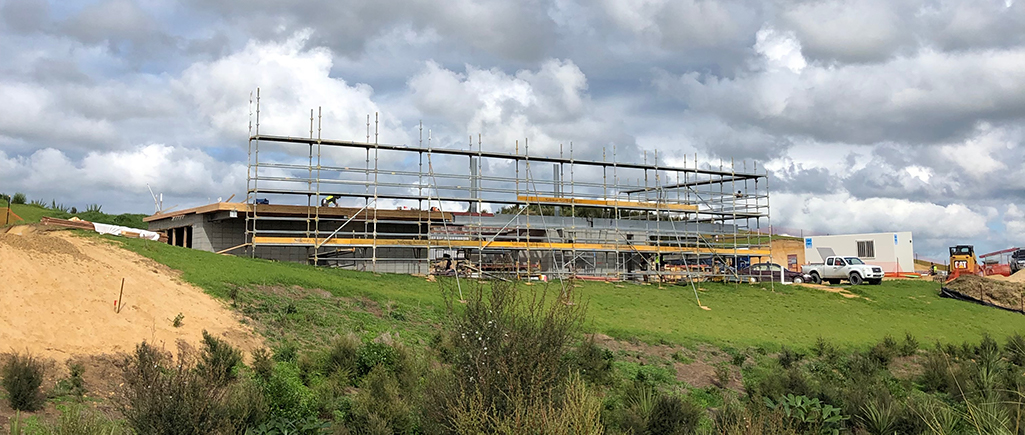 A typical milestone schedule might look like this:
Deposit on signing contract (to cover consent fees and preliminaries such as site set-up, temporary power and water, deposits on materials and subcontracts, insurances, and project planning)
Slab down (foundations laid or piles in place)
Frame stage (external framing and roof trusses)
Lock up (external walls and joinery installed)
Fit out (pre-plumbing pre-wiring, ceilings)
Completion (kitchen, bathrooms, appliances, flooring installed)


A PAUSE IN OPERATIONS
So far so very orderly, but what happens if there's a glitch in the plan? The biggest risk with a construction loan is the time it can take for the build to be completed. The gap between when you sign up to build and how long it takes to construct the home can be 12 months or more. As we all know, a lot can change in a year, and sometimes there are unavoidable delays. "In 2020, the pandemic shut down building sites and the supply chain for building materials was affected," says Richard.
At other times, human nature might be the cause of the pause. As your home build progresses, you may want to make a change to the design specifications, for example extending the deck or changing the dimensions or style of the kitchen bench. Even small changes, like putting in additional power points, will impact the cost, so be sure to keep the bank in the loop. "When that happens, customers need to acquire a variation to the agreement with the builder and get new funding approval for any additional costs," says Richard. The bank will work through these variations on a case-by-case basis. It may mean a change to the milestone payment schedule and some changes could impact the existing building consent, which means more waiting while the council reassesses the new plans.

HOME RUN
When the project passes the finish line, and you've advised the bank in writing that the house is completed to your satisfaction, the bank will pay the final invoice. They'll ask for a copy of your house insurance policy and a practical completion certificate (at Box™, this is standard as part of the Registered Master Builders' contract and signed off by the customer and the design lead).
When chatting to the bank about paying your builder's final invoice, it's a good time to discuss your final loan structure, to ensure it's suited to your financial goals.
Our top tip is to talk to your bank early to get an idea of how much you can afford. Ensure you also have a clear plan on what you're looking to achieve, so that there are minimal variations during the build. That way you'll be well on your way to a project delivered on time and on budget.
For assistance with your new build, talk to a Kiwibank Home Loan Specialist today by calling

0800 000 654
or visit
kiwibank.co.nz/home-loan-specialist
Each build is unique, and your situation may differ from this example. This article provides general information and isn't intended as regulated financial advice. To review your specific situation and financial requirements, please talk to a Kiwibank representative or your financial adviser.