Get the kitchen you deserve with these 8 great design ideas from Box.™

Shape of the moment:
Once was a time when U-shaped kitchens were the most alphabetically attractive layout. The thinking was they delivered more storage. However, that extra space to hide clutter lies in the deep recesses of the U, so was always difficult to access. A linear arrangement is more functional and easier to construct (think less costly) as conventional-sized cupboards and drawers are used and, to our minds, looks more sculptural. Also, since the kitchen moved to the heart of the living zone, it is, more often than not, a transitional space; galleys are easier to navigate through or around.
Mix it up:
Homogenous kitchens that are all one colour – usually either black or white – might be nirvana for true minimalists, yet they don't have much personality. Sure, choose your mood – whether that's yin or yang – but give the overall picture some pep with natural timber tones thrown in. A kitchen should not be designed in isolation: it should speak to elements in the rest of the home. An all-black or all-white kitchen, since it draws the eye, tends to dominate an open-plan space rather than integrate with it. Tell a cohesive story by, for instance, using cabinetry fronts in pale birch and repeating that in bathroom vanities. Break up the island with a white engineered stone benchtop (such as Silestone) teamed with white/black and timber cabinetry.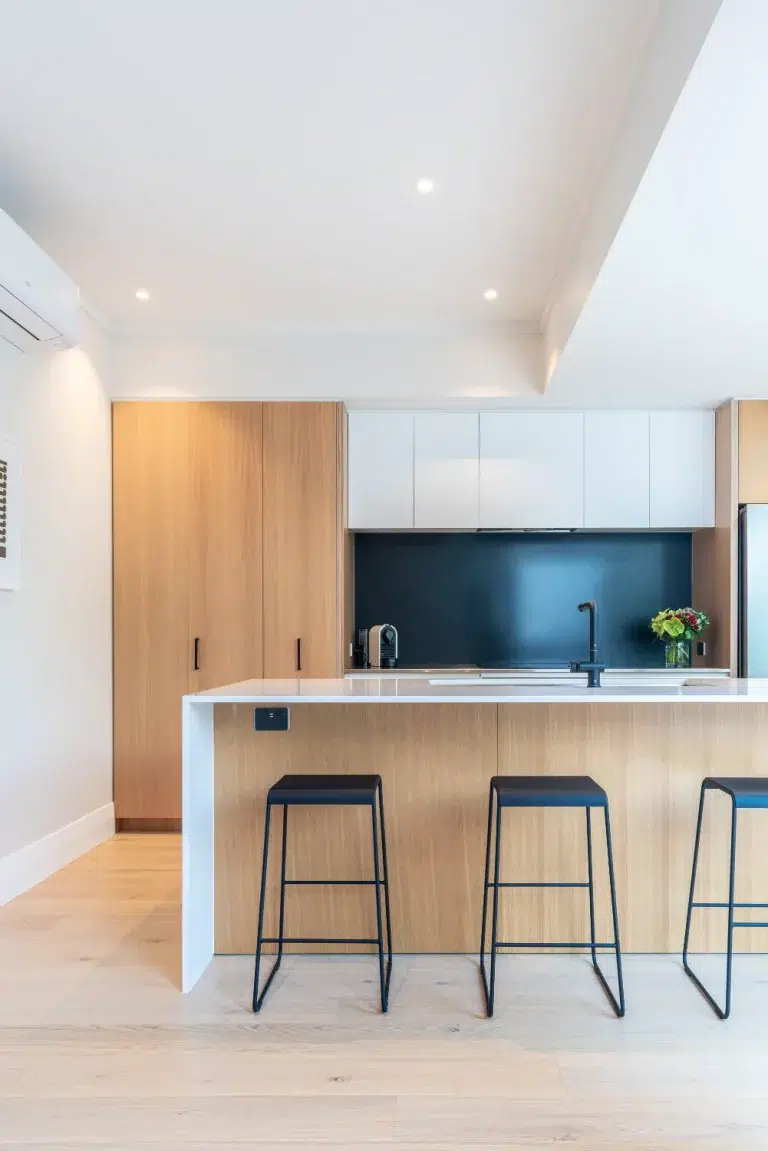 Get the skinny:
Technological wizardry means that engineered stone can now be manufacturer in a finer profile to provide an elegant edge. Generally the only thinner benchtop material used is stainless steel. Fine benchtops are less expensive because there is less material, less weight, less installation time. Dekton is just one of these magic materials that has shot to favour. It looks like stone but can be as fine as 8mm. Of course, there will always be those who prefer chunky, natural materials, but Box™ clients seem to love the lightness and practicality of engineered products that are resistant to stains, scratches and (with a ceramic material) heat.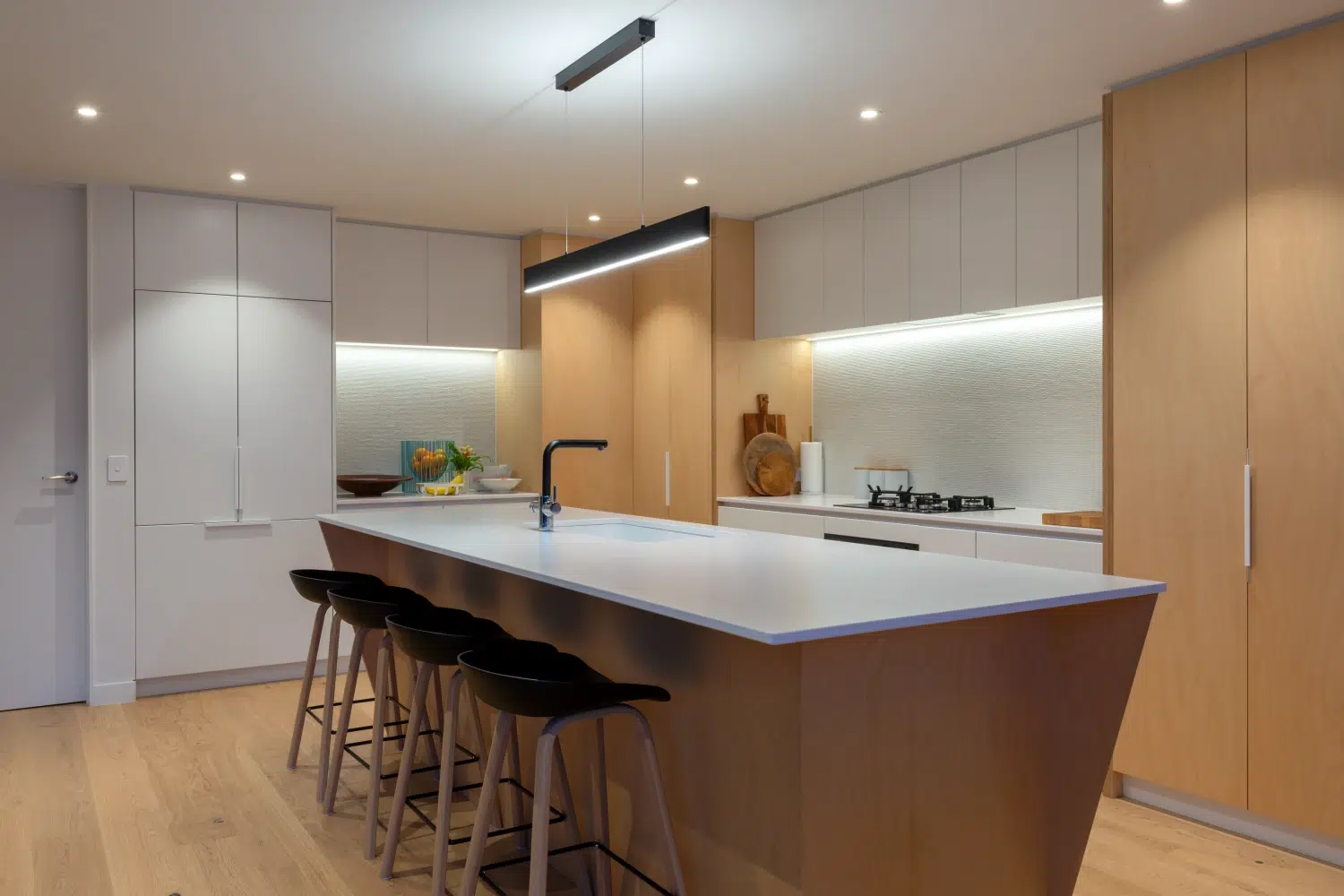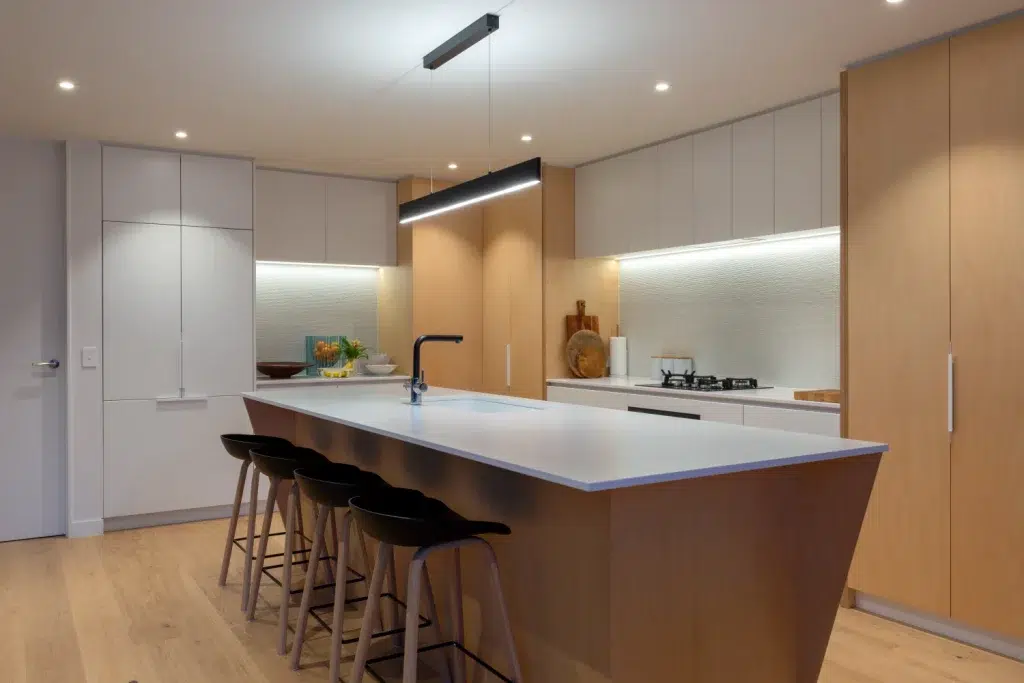 Finish it:
Gloss is not the goss on the Box™ drawing board. That's because this finish tends to be too much of a good thing; it's inevitably the first thing you notice. Matt finishes are far more calming and organic. If you want to perk up the palette, texture – not sheen – is your BFF. Natural timber-grained surfaces bring subtle matt texture to cabinetry fronts, whether in solid timber, timber veneer, timber laminate or even a solid colour with a textured grain imprinted on the material. For benchtops, honed stone surfaces are top of the pops right now, along with some higher-end products that come with a suede effect, leathered or brushed textures. Whichever you choose, do your research on the maintenance and cleaning aspects of the surface.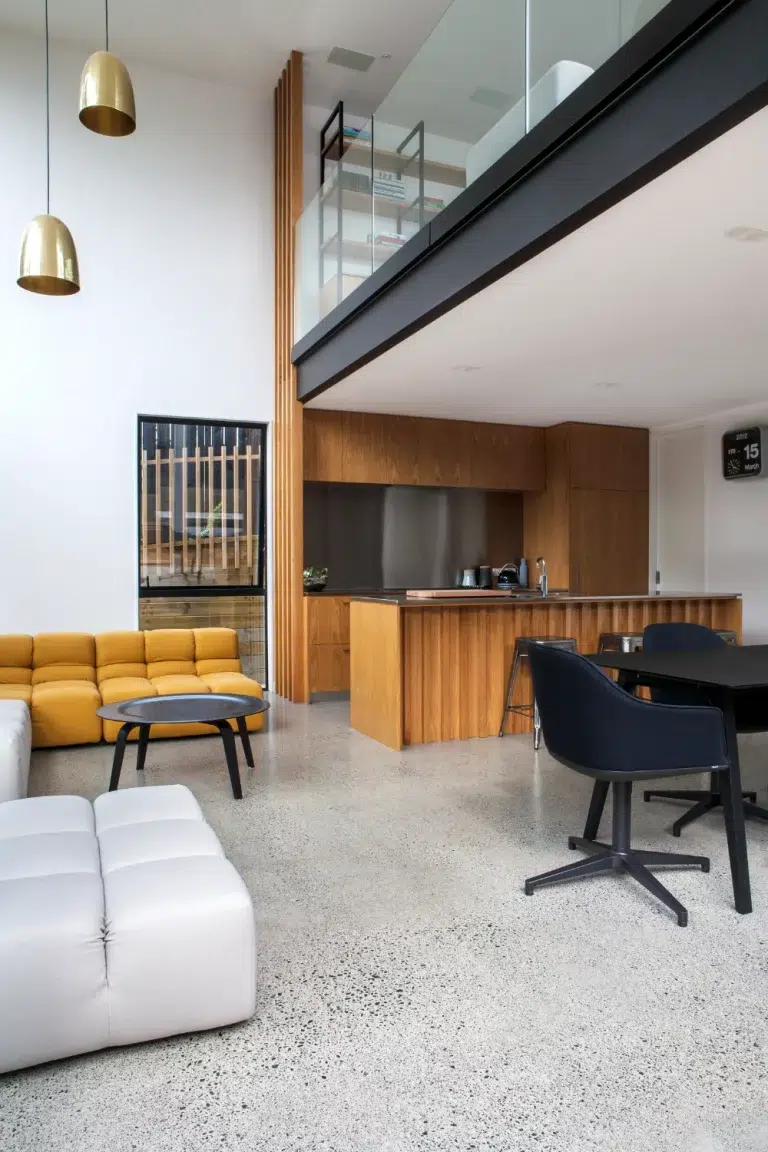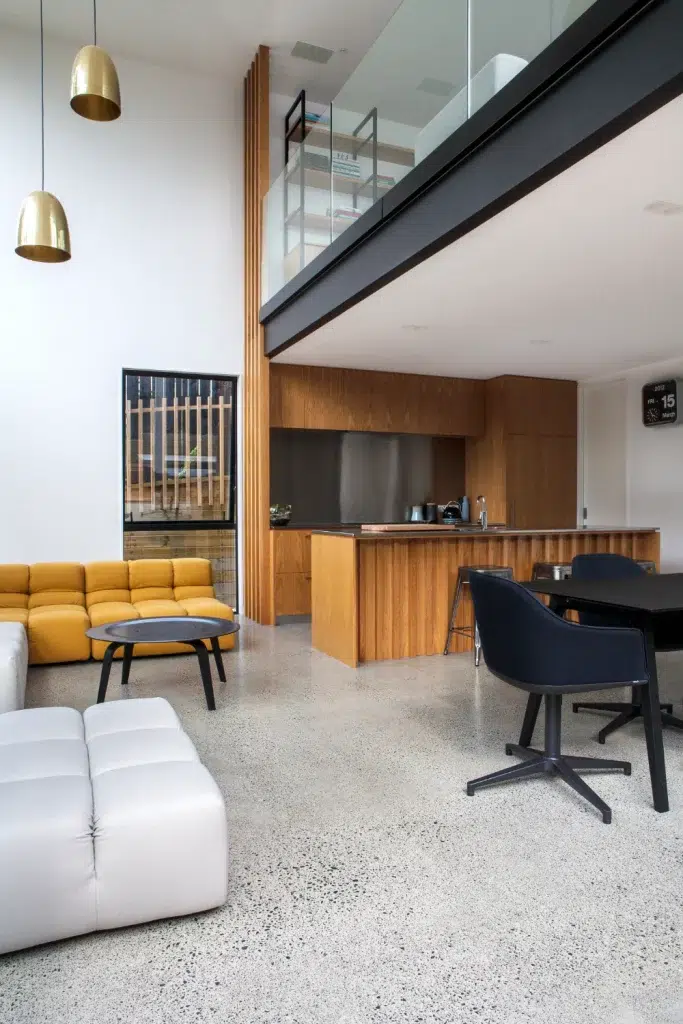 A hidden agenda:
Not only can appliances (fridges, rangehoods and dishwashers) be integrated behind cabinetry, entire rooms can too! Secret sculleries are popping up all over the place (although you'd never know it). Still, if your project doesn't have space for an entire backroom, a hidden walk-in pantry might fit the bill. Disguising a walk-in scullery or pantry behind in-swing or bi-fold cabinetry doors, is a great party trick for first-time guests – and keeps small appliances such as the jug and the toaster off the main bench.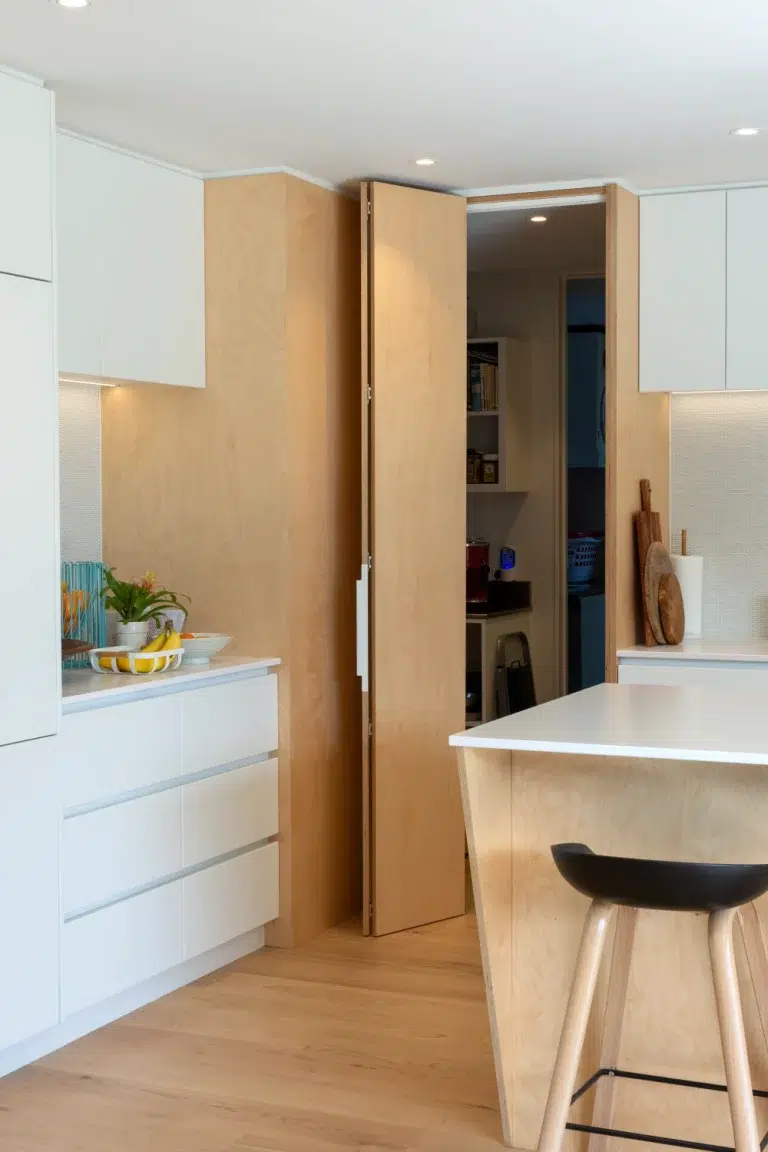 Do the strip:
LED strip lights are up for anything. They can trail above cabinetry to wash up to the ceiling, or below high cupboards to filter down onto the splashback. There are many placement options with these lights, such as lighting the overhang area of the kitchen island, however, use them judiciously. In a compact space, an illuminated island that appears to float can be just too much of a good thing. Less is often more. Also consider whether you need pendants or a linear light above the island. These can look glamorous but may not date well and can clutter up a smaller space or even block a view. If downlights are well designed, they'll do the job perfectly well.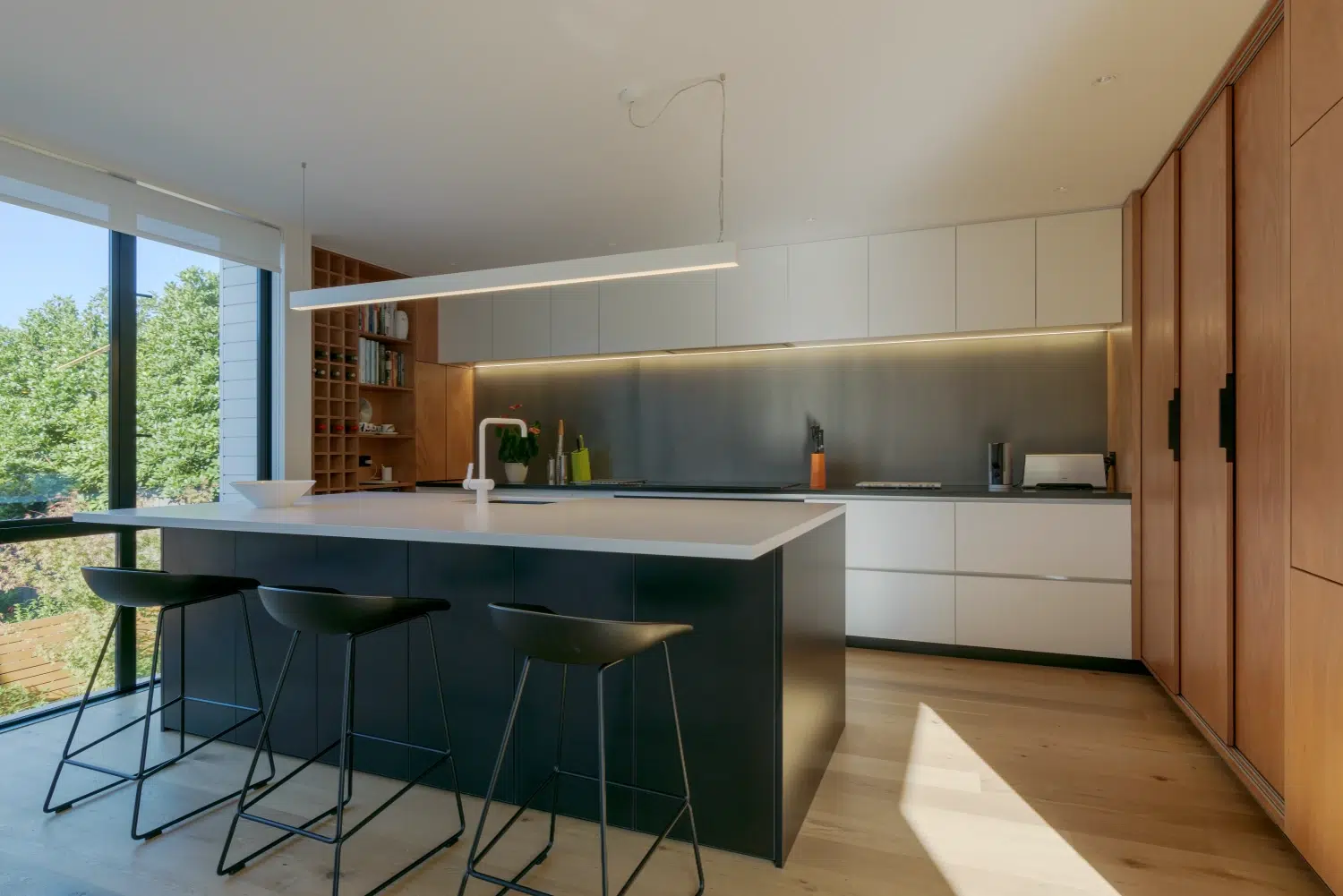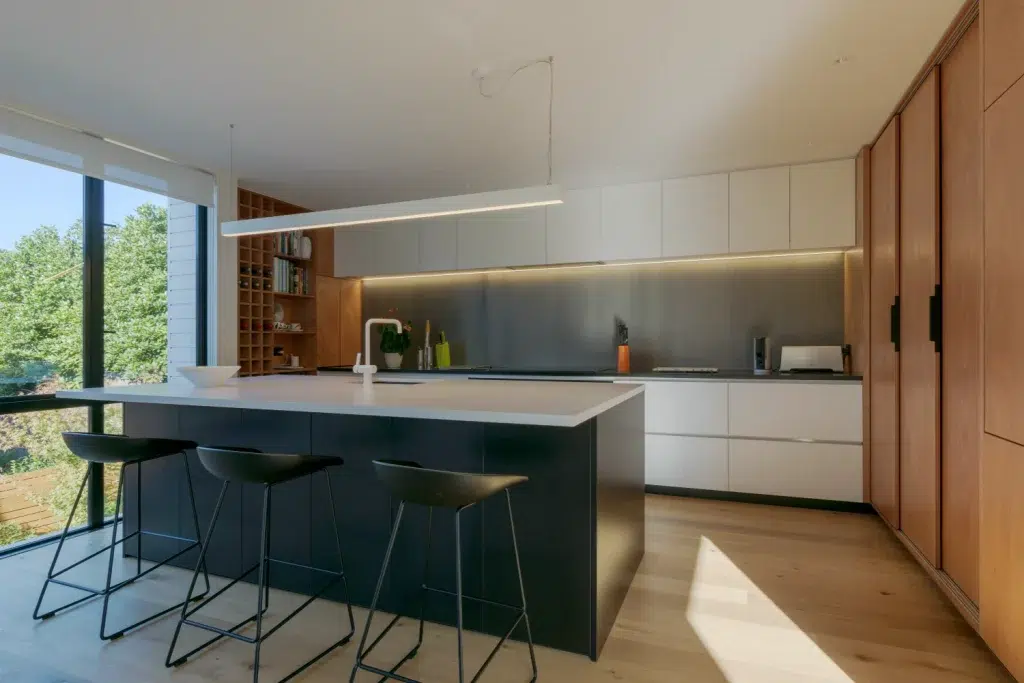 See clearly:
The splashback offers another opportunity for the kitchen design to, um, make a splash. Again, be careful – you want something timeless not fashionable. Think about using more matt surfaces such as the continuation of the benchtop material, or colour-suitable tiling. Perhaps, take a break and don't choose anything at all! Come again?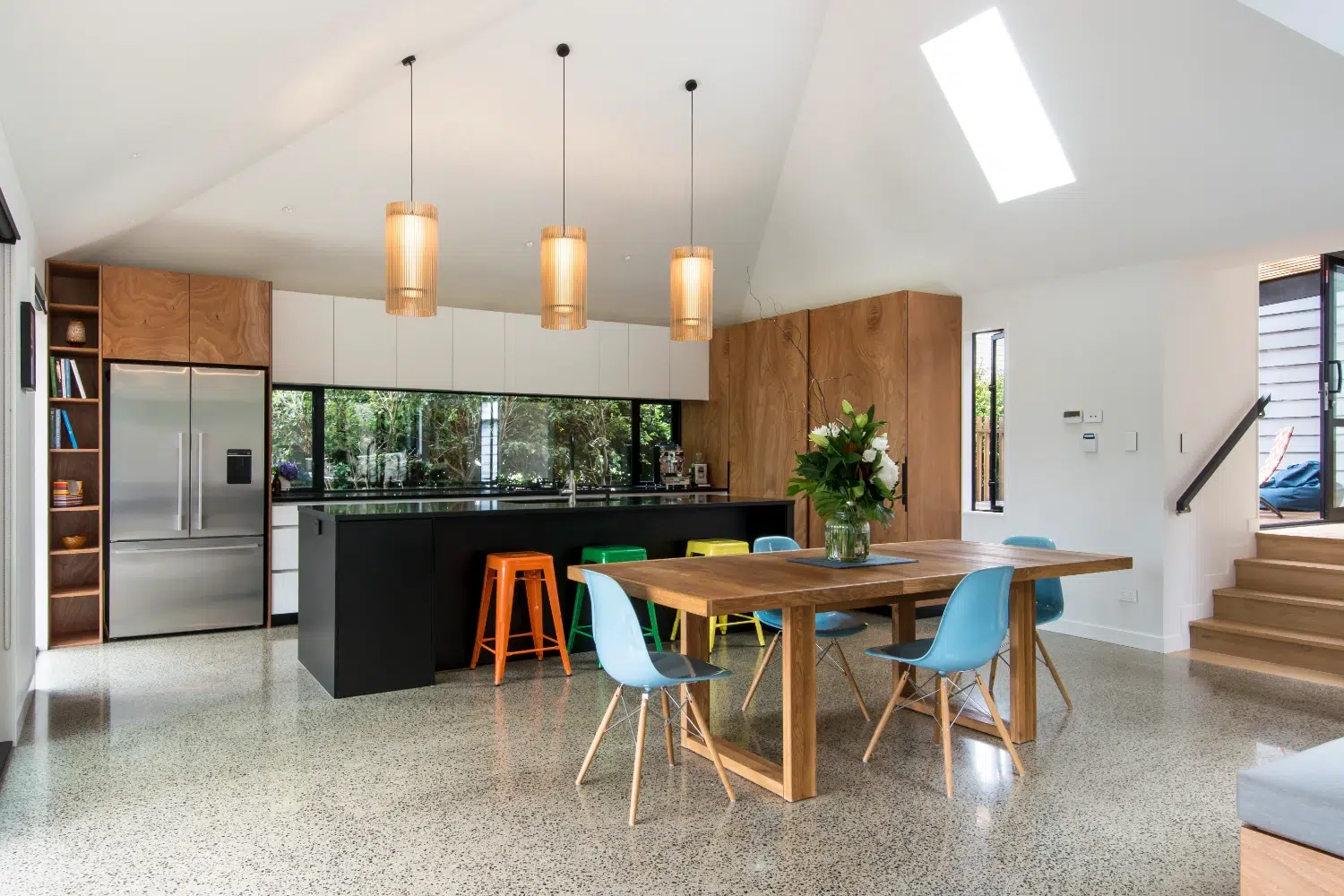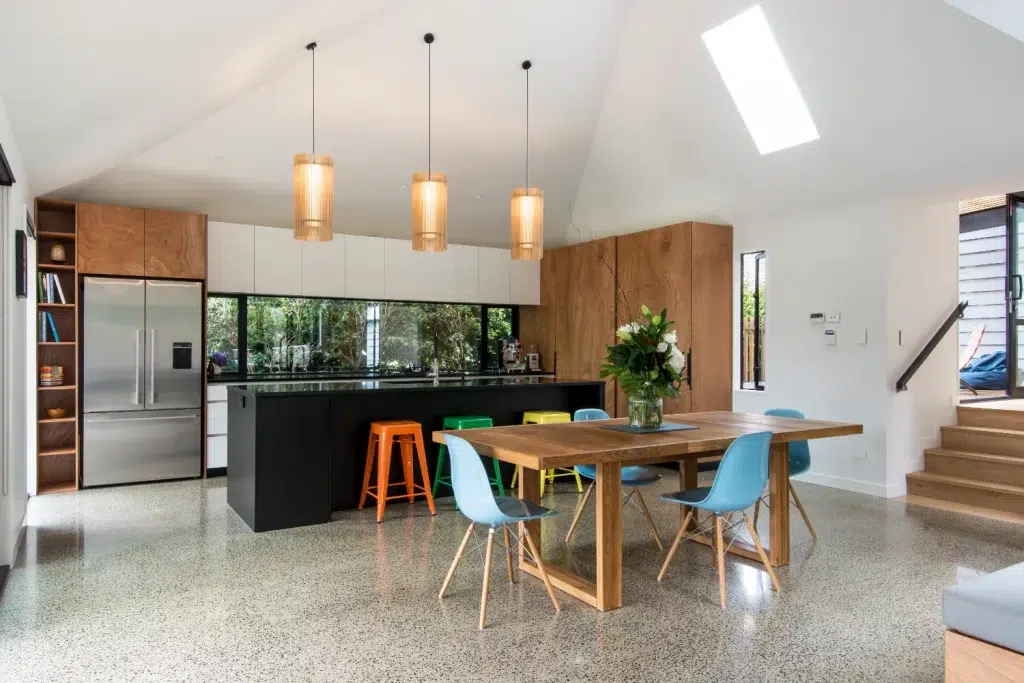 Here's the thing:
If your kitchen is on an exterior wall, a frameless window is a natural alternative. The benchtop can run seamlessly into the glazing to make the space feel larger, the window that brings in light and a view of the garden. What's not to love?

Details, details:
Design details that get our thumbs up at Box™ include filtered sink mixers which deliver sparkling, filtered or hot water instantly (which makes Sodastream and jug redundant). Kitchen sinks that are colour-matched to the benchtops. Whether it's a stainless sink that's welded into the stainless bench for a seamless no-join detail, or an engineered stone sink that's undermounted for a colour-matched detail to a stone island top. Fingerless recessed pull handles are currently popular (obviating the need for protruding handles on cabinet fronts). These recesses can be made in another material, bringing a secondary kitchen surface into play. Metal profile channels can also be made, perhaps emulating a matt metal finish from another area of the kitchen while push magnets are great for high or island cupboards that need a more discrete treatment.