The house that this young family built echoes the bach that once stood on this North Shore land
Leah Goddard's daily walk during lockdown was both a delight and a frustration. One the one hand, it felt like freedom to temporarily vacate the compact 1950s home Leah, her husband Chris and their two children, Evelyn (10) and Harry (7), were renting. On the other, with tools downed for five long weeks, the family was forced to amble past their half-built new home and wait…and wait for a Level-3 restart.
The couple, who met in London, returned to Leah's childhood patch in the North Shore when they decided to live in New Zealand. "I grew up in Castor Bay, but Chris was born in England. He said that if he was going to move here, he wanted to live within walking distance of the beach," says Leah. Fair enough.
In 2018, they bought a former bach near the arc of golden sand that is Takapuna Beach. The home, hand-built in the 1930s, was box-like in form but time had not been kind. The untreated wood had rotted away, and a building report determined it would be too costly and difficult to renovate.
For many years Leah and Chris had admired the design of Box™ homes, having visited one in Pt Chevalier when the children were young. "We just liked their style: the houses had simplicity but were well done with lots of natural light," says Leah. The idea of building a box, one that harked back to the rectangular shape of the original bach, appealed.
With only 450 square metres of land to work with, it was important to draw out generous living from a relatively small site. This meant extra consent applications under the property's cross-lease agreement. It was a "bit of a journey" for these first-time builders. "The process was stop-start due to forces beyond our control, but Box™ stuck with us and were really great," says Leah.
To create more outdoor living on the northern side, Box™ head of design Tony Borland-Lye suggested moving the footprint of the 211-square-metre dwelling as close to the roadside boundary as possible. Then, he imagined two storeys to deliver enough space and the view: an aspect through pohutukawa to the sea. "At one stage, we considered putting the living areas upstairs, but Tony convinced us otherwise," says Leah.
Instead, the main bedroom boasts an east-facing balcony with an aspect towards the beach while the downstairs living areas run straight out to a deck where summer BBQs are firmly on the horizon.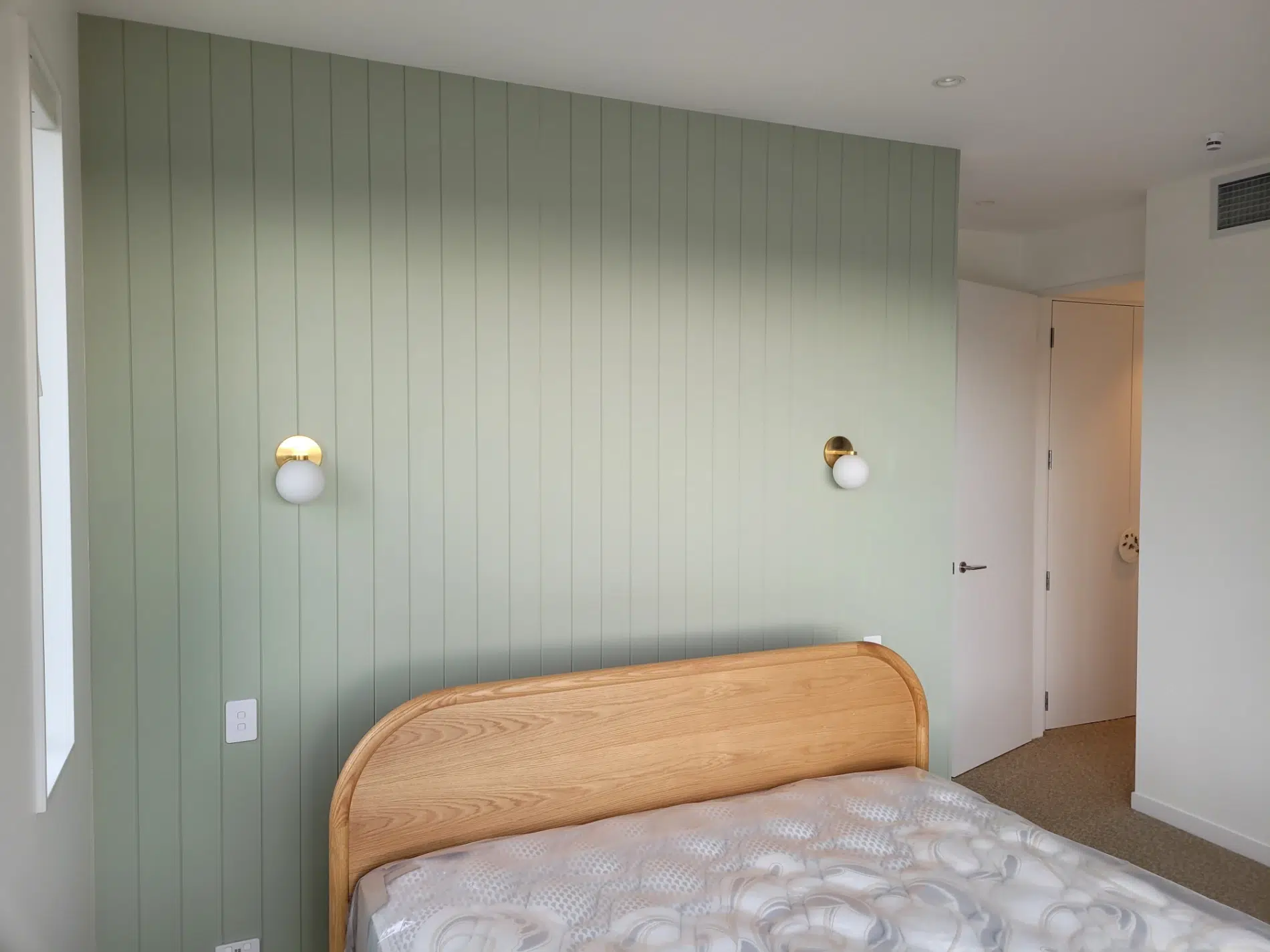 From the street, the home looks contemporary and smart – a grown-up, modernised version of that 1930s bach. It's clad primarily in vertical board – Vulcan by Abodo – which has been coated in a Siooo:x, a silicon-based product that protects the timber for up to 10 years and weathers to a beautiful silver-grey. A single-car garage sports dark-stained Weathertex, and the front door is painted black to match.
That's one of the few neutral-toned surfaces you'll see in this project; inside, Leah's love of colour has been woven throughout the finishes. She enjoyed working with the in-house interior designers who brought her ideas into being – and into line. "They were helpful in directing me, putting my ideas into an actual plan that would work and throwing out others that didn't fit."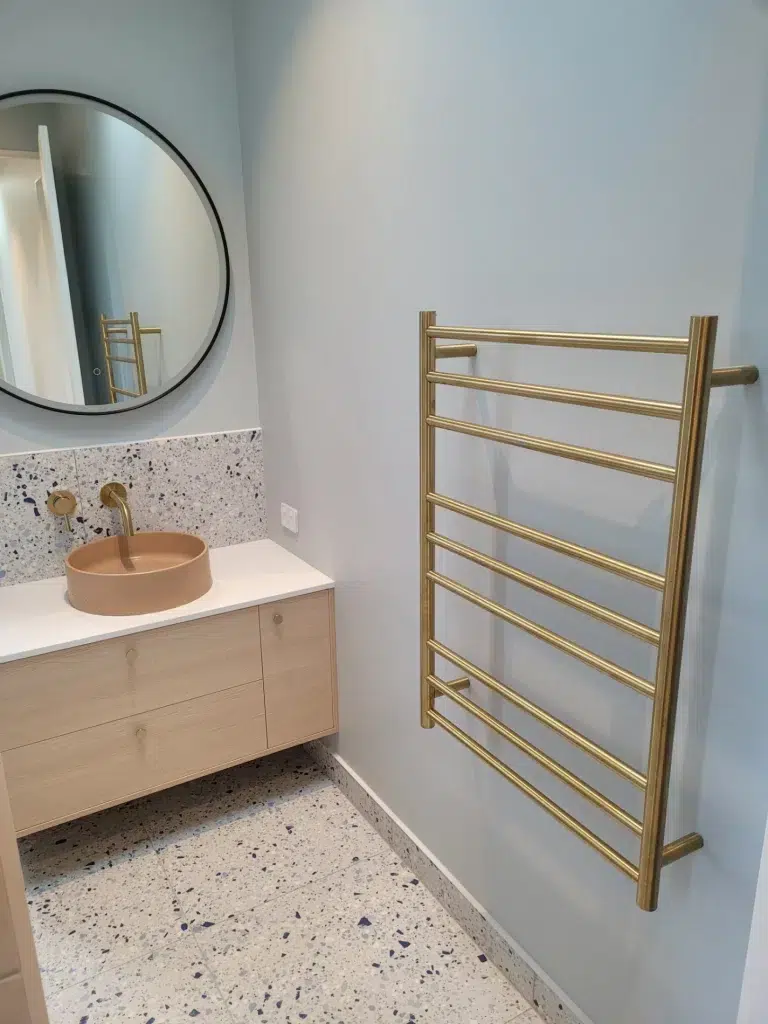 The kitchen is a case in point: Leah always dreamed of a curvaceous island bench and chose a Dekton benchtop for its bulletproof appeal. Her vision was for cabinetry in soothing green. To offset these Melteca 'Possum' cabinets, Box™ suggested a centralised bank of cupboards in a walnut shade. Integral to the design principle was to create cohesion by repeating materials throughout the scheme. Walnut also features on the front of the island, as a panelled wall in the coat nook and as a backdrop to the built-in dining booth. "I love those retro-style booths, and it saves on space as a dining table takes up heaps of real estate," explains Leah.
Another must-have was a textural terrazzo-look tile that she spotted early in the project and wanted to use – extensively. The upstairs bathrooms benefit from this playful material, with the terrazzo incorporating flecks of blue in the kids' bathroom and orange tones in the en suite.
Getting the children involved in the design has been part of the adventure; Leah is not afraid to have fun. There'll be wallpaper with dogs (kids' bathroom) and waves and whales (guest bathroom) as part of the in-residence menagerie.
But she's also ever practical, too, so there's storage slotted everywhere (including under the bench-seat in the dining booth, in the laundry and in a scullery slivered under the stairs). When Box™ suggested a flexi room with a sliding door downstairs to close off the noise of teenage TV, she went for it. And they located the upstairs home office between the main bedroom suite and the children's rooms to act as a sound buffer. With a series of lockdowns potentially looming, each member of the household has dedicated desk space, too, with built-in study nooks in Evelyn and Harry's bedrooms. "We shaved some space off the wardrobe for those."
The single-car garage leaves more room for the house itself and simultaneously keys into this one-car family's sustainability values. "We like the idea that we can just walk to the beach or to the shops, or even hop on an electric bike if we need to go further," says Leah.
Box™ certainly nailed the brief for light and spaciousness with a 2.7-metre stud downstairs, lots of carefully placed windows and seamless access to the covered north-facing deck. When the Goddards finally get to move into their forever house, it will be an achievement to celebrate. "Since we had never built before, it has been useful to have a lot of time to make decisions," says Leah, looking on the bright side. To be fair, not a lot has changed from the original vision: it has simply been fine-tuned for future family living.