There are some projects that get so far and then, for one reason or another, are given the chop. Here Box™ head of design Tony Borland-Lye laments two exciting homes that never got to step into the spotlight.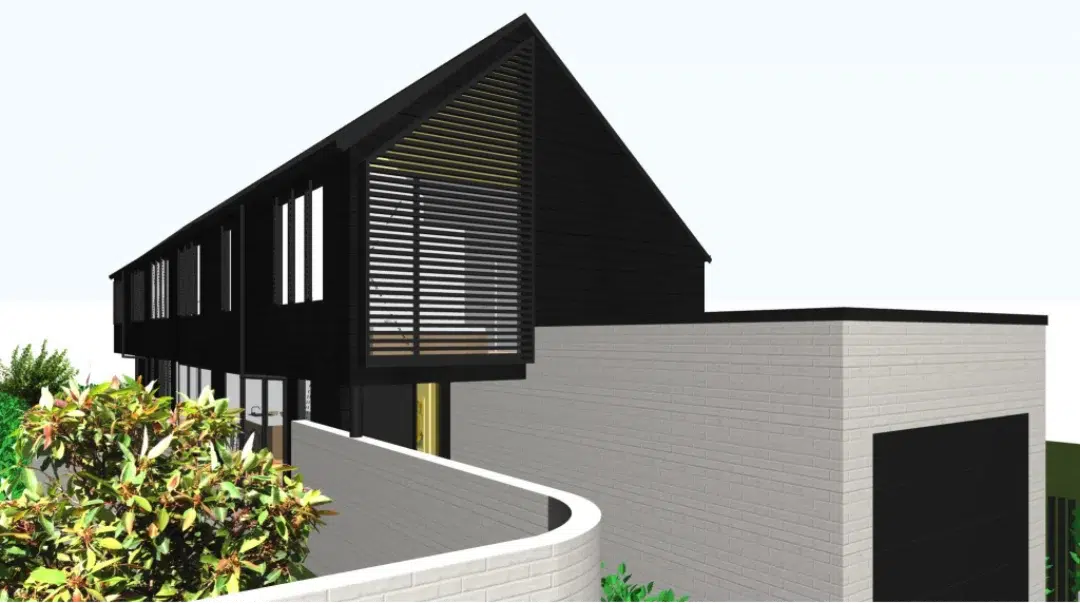 METRO MARVELOUS
In the city-fringe suburb of Grey Lynn, there is heritage, and there are people who appreciate contemporary design. So getting a new home across the line with council in this area is a little trickier. This house was designed to be respectful of the surrounding villas. Box™ seldom employs the gabled form, but here that was the perfect fit. The roofline echoes the heritage of the suburb, neatly complies with height-to-boundary restrictions on the incredibly narrow site and packs a lot of storage beneath its V-shaped pitch.
Horizontal weatherboards, again not typical of the Box™ aesthetic (we usually go vertical), are more neighbourly, too and we envisaged coloured glass panels in the front entrance – a nostalgic nod to Victoriana. Corrugated roofing finished off the copycat classic.
It did not matter that the building was only five metres wide; clever planning over two storeys created 250 square metres of living with bedrooms above and kitchen/dining and two living spaces below. The top floor cantilevers over the lower to create shelter and shade, and there's a private north-facing courtyard and trees from the street kept it leafy and lovely. You'd never guess you were 10 minutes from town.
Asked why he chose this house to highlight in our cutting-room section, Tony could only say the balance and proportions were satisfying, and that today's take on the classical worked. "I felt we had a really good shot of getting this approved by council planners. It's sensitive to history but still feels contemporary. I would definitely live in it."
COAST AND COUNTRY
Designing an escape far from the madding crowd is always a privilege, but this site in Piha had something special about it. Accessed via a vertiginous driveway, the hairy journey to the top was worth the angst. "The section was nestled into bush where there was so much birdlife, but it also caught a peep of the sea," says Tony. The clients, a couple who are sociable sorts, were enthusiastic and involved. He couldn't wait to get his drawing pad out and start sketching.
A magnificent Pohutukawa out front was joyfully retained as an L-shaped configuration took shape; this accommodates the specimen tree and stretches out towards the sea. The house can loosely be described as a collection of cantilevered cubes and is set over two levels. The ground floor contains a guest suite, and an all-important parking spot and watertank were slotted in beneath the upper level. This second storey is the main event with a living zone that gets a prime seat for the garden outlook. A wedge-shaped deck on the north-east elevation provides shelter from prevailing winds and connects to the dining area for all that alfresco entertaining that was planned.
The dwelling, with vertical timber cladding on a concrete-block base, incorporated another Box™ signature move: the monopitch roof. "We wanted a low-key design to blend into the environment," says Tony. Inside, understatement was a key driver: a nicely raked ceiling with plywood panels kept it real.
Sadly, before this fun project could launch, circumstances beyond the owners' control meant they had to part with the section. But Tony will always remember it as a place of privacy and peacefulness.