Well, quite a lot really. A fantabulous array of flooring options for a start. The choosing can be confusing, so here we give you our ground-zero take on the considerations:
Cue the concrete
Concrete floors aren't suitable for houses built on piles: in effect, it's the foundation slab that's ground to create the polished concrete floor. This said, if it's practical and you love the idea of concrete floors for living zones (their robust aesthetic and the way they act as a heat sink), that's great, but the decisions don't stop there. You'll need to consider the aggregate carefully – its colour and the shape of the pebbles. Then you'll have to choose a level of grinding before the finish is, er, set in stone. Basically, this is about the level of aggregate that is exposed. A 'cream' or 'natural' polish looks organic and variegated and is suited to high-gloss polishing. A salt-and-pepper finish does what it says on the tin: a light grind leaves a sprinkle of tiny specks. Light, medium or heavy grind exposes more and more of the stones. Some clients also like to put shells or coloured glass into the aggregate – if so, you'll need to choose a ratio. It's a bit like a surprise gift because you don't know exactly how it's going to look until the grinders move in. Finally, the floors are polished. More decisions. How reflective do you want it to be? The options range from matte through satin to versions of highly polished, culminating in a mirror-like finish.
Some points to note: A concrete pour should be watched closely to ensure the cracking and imperfections are reduced to the visible surface. It is common to put in underfloor heating, employing a hydronic system that pumps hot water through pipes in the slab. Of course, there is added expense to install and run this system.
At Box™, we advise clients to offset the industrial nature of concrete with timber features. For example, in this property in Kohimarama, a wall surrounding the fireplace and built-in TV and the island front of the kitchen is crafted in the rich warmth of wood. A tan leather occasional chair and, on the sofas, two oversized, plump cushions upholstered in a rust-coloured fabric tie the scheme together.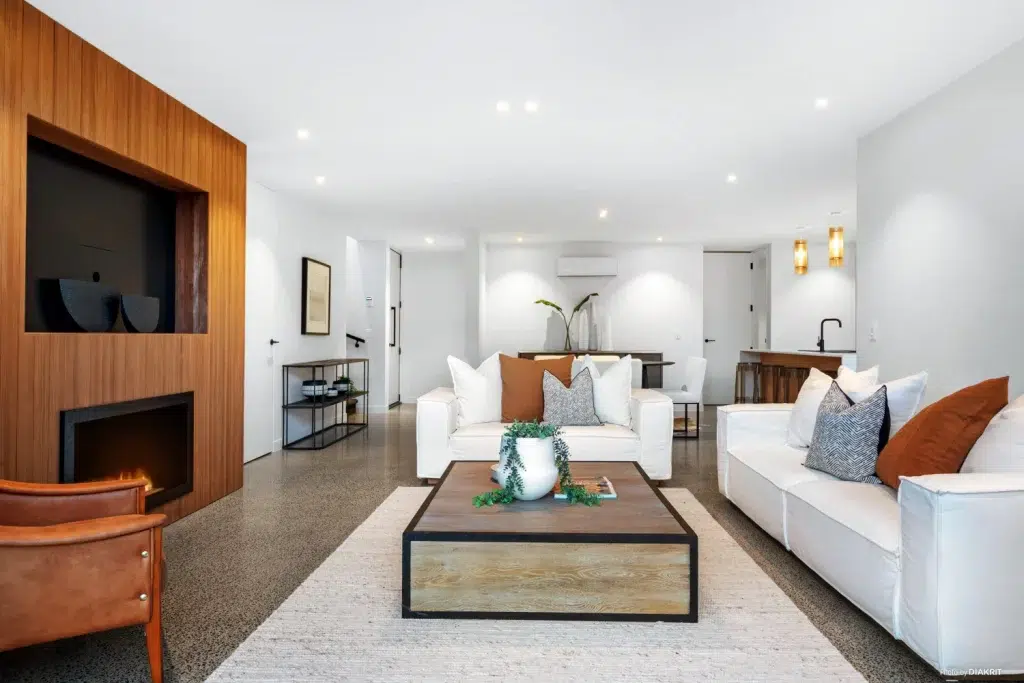 We knew you wood
There aren't many homes we design where pre-finished engineered wooden flooring doesn't feature prominently. And why not? It has the look of a solid timber floor with less chance of warping or cupping. These timber floors are either polyurethane coated or oil coated. While the former requires minimal maintenance (a quick vacuum and mop and you're done), some clients like oiled floors because you can sand and recoat them, however impractical this is to do frequently.
The direction of timber floorboards makes a real difference to the feeling of a room: laid parallel to the longest wall, they help accentuate the volume of the space.
Depending on your selection of timber type, plank width and length or colour finish, this type of flooring suits every aesthetic. Wide-plank flooring in American oak is certainly streaking ahead in the design stakes right now probably because, with its honey-pale tones, it's both modern and family friendly.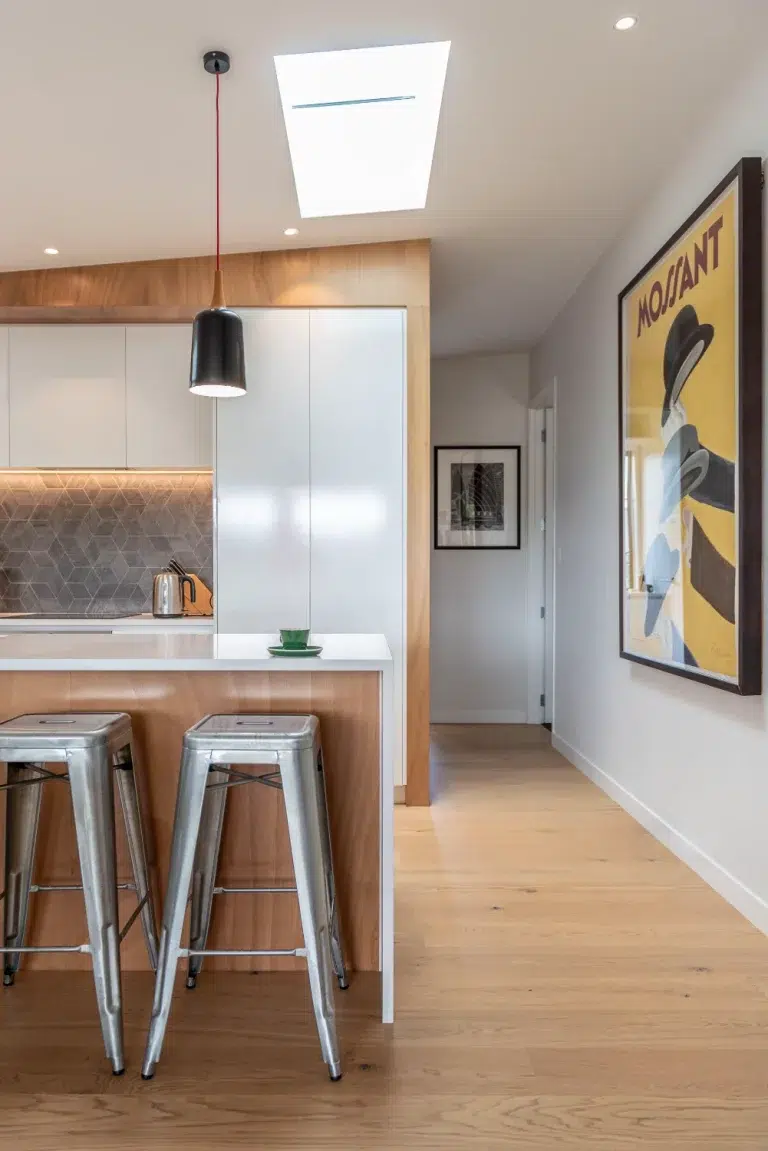 For Scandi lovers, paler planks are de rigueur, or for a more rustic, characterful look, something in a richer hue would suit. In one Box™ project in Wellington, we even worked with the owners who wanted to repurpose kauri floorboards from the house that once occupied their site to source engineered flooring that melded old with new. The result brings instant personality to the piece.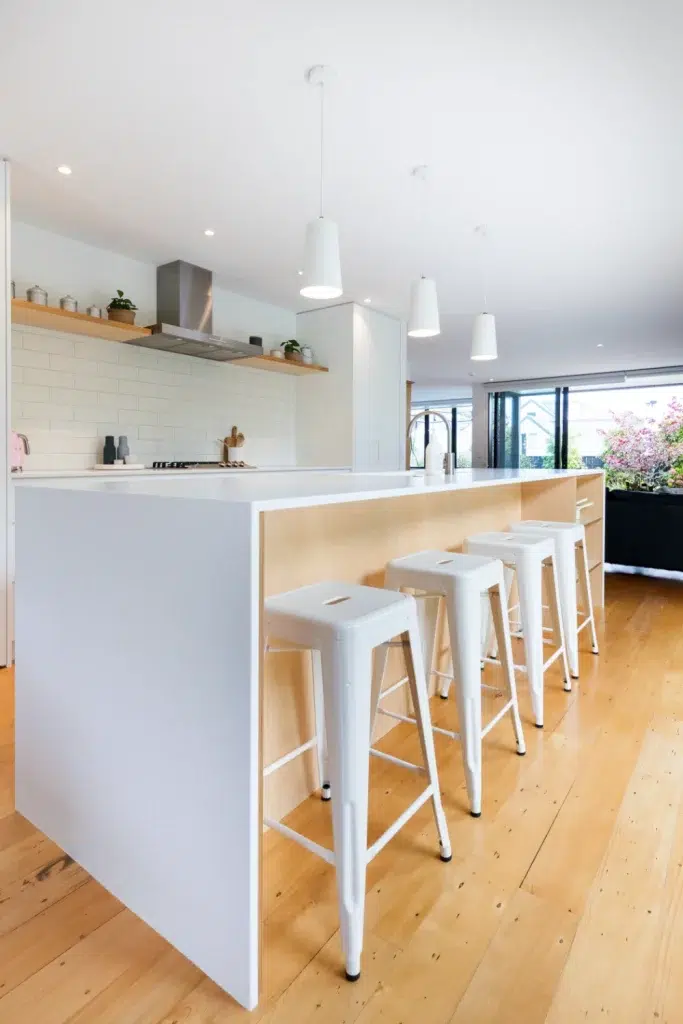 A mid-brown colour (think walnut) with plenty of grain suits a farmhouse or warehouse aesthetic and some of our clients have used this to superb appeal. Finally, if the trend spotters in Europe are anything to go by, they predict the rise of darker hues which are "cosy, more nostalgic and forever classic". Because all Box™ homes are designed with floor-to-ceiling windows with lots of light flooding in, dark timber floors can bring contemporary elegance to the palette. It makes a striking design statement to contrast dark floors with white walls but not many of our homeowners have taken this route. Come on guys – give it a go!    
Dial in the tile
Most Box™ clients choose tiled flooring in the bathroom but, do you know the difference between ceramic and porcelain tiles? It's quite difficult to tell as they are both clay-based and kiln-fired products. However, a porcelain tile, which is made of finer clay, is more durable since it is denser and so more impervious to water. Also, the colour stratum of porcelain is uniform throughout the tile so if it gets chipped, this will be harder to spot. All this makes porcelain the more expensive option. On the other hand, ceramic tiles are easier to cut and work with, so you'll save on labour and, with the addition of a high-grade glaze, ceramics will resist wear and scratches.
Extra-large format tiles (we're talking sizes up to 2.7m long) introduced in the last few years have changed the game and can be a good choice even in a small bathroom where fewer grout lines mean the look is less cluttered. At Box™, we install underfloor heating beneath tiles as standard but if you're on a tight budget, vinyl tile is a great alternative. Vinyl is less slip-prone and warmer underfoot on a chilly morning. Great as a family bathroom choice.
The soft option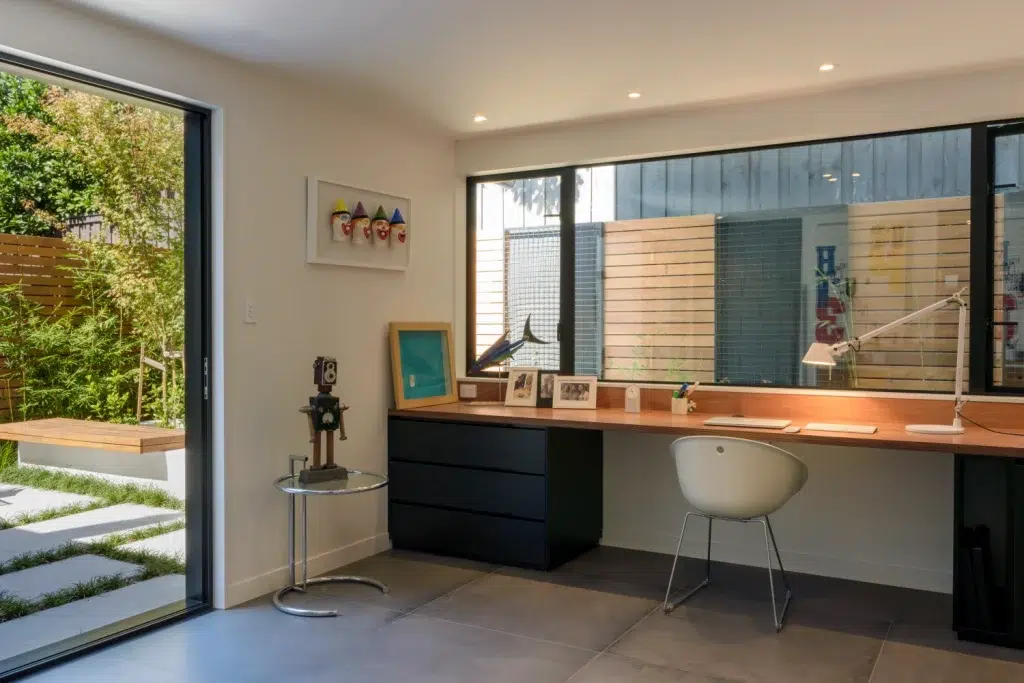 Bedrooms = carpet. That's an irrefutable equation in our book (unless it's a beach house where you can get away with timber floors). Natural fibres such as jute, sisal and seagrass are enduringly popular but synthetic options, which are easier to clean, can replicate their texture. Speaking of which, 3D texture is on the rise. Literally. It's not quite back to shag-pile days, just lovely and nubbly underfoot. And, if you can be drawn away from grey, earthy tones such as moss greens or clay or gold are the shades of 2022. If not – and let's face it there are 50 shades of grey – try the darkest greys for a contemporary foil to white walls, or palest grey with ribbed texture to make a smart, assured move.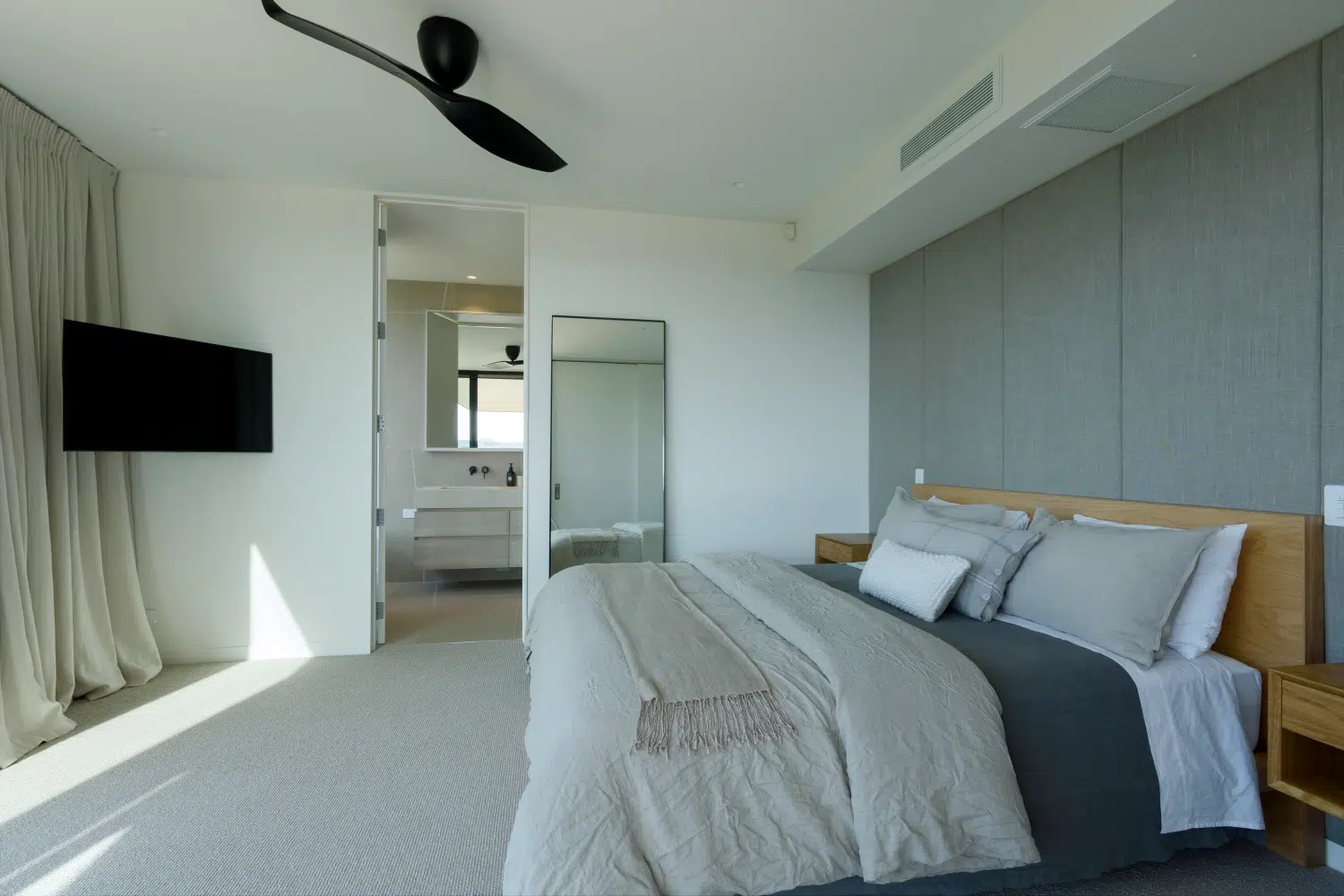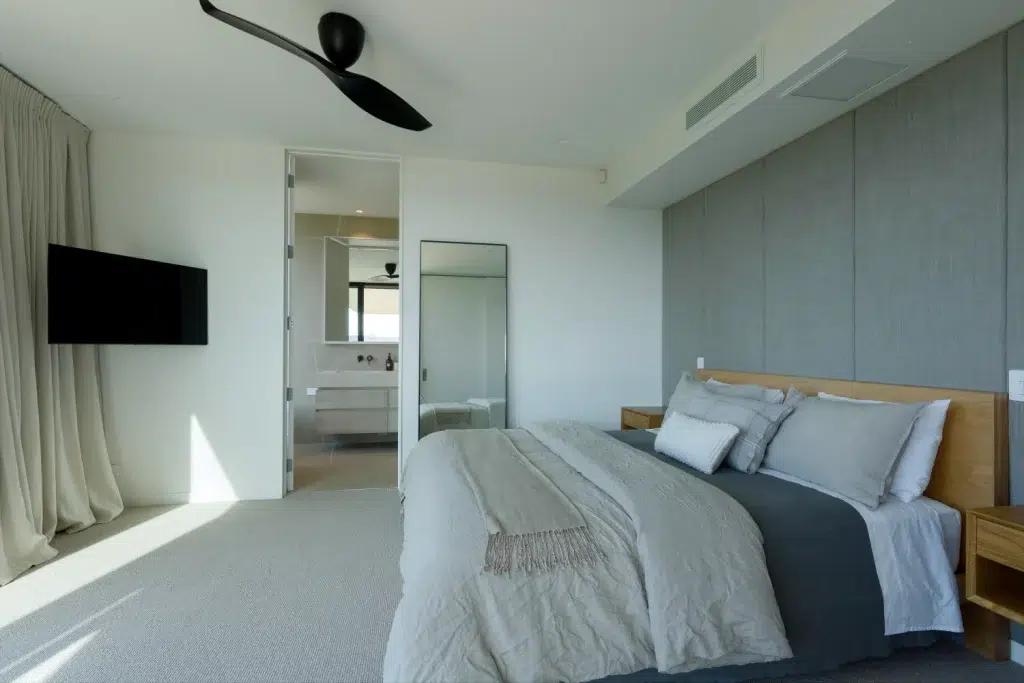 Pave the way
When most people think of flooring, they imagine it indoors but, since we started transforming the outdoors into alfresco rooms, that definition has moved beyond the threshold. If you're a true-blue Kiwi, you'll tend to opt for decking. Once was a time when pine was the pinnacle of choice, but all that has changed (check out our article here: https://www.box.co.nz/design/all-eyes-on-deck/ Still, decks don't suit every situation. While they're the only solution for uneven or steep terrain, if you're blessed with a flat piece of land, pavers might be the easier way to go. In this Lower Hutt home on a level site, a paved patio was quicker and so less expensive to construct since there were fewer structural requirements. The pavers continue to skirt the perimeter of the house, forming a boundary between it and the lawn. Patios generally require less maintenance than wooden decking to keep them in top condition, whereas decks should be power washed yearly and stained or oiled around every two years. Gravel or pebbles are a good alternative and crazy paving is having a moment (well, another moment really) and teams in well with a modernist flavour.