The grooviest gift for lovers of mid-century design, a wish-we-had-it-here cycling storehouse, and a heritage icon in Christchurch that's a must-visit if you're in town

What's got us inspired:
Tim Ross may not be a name many New Zealanders have heard of, but across the ditch he is known as a passionate advocate of modernist architecture. He's a comedian who calls himself a 'design nerd' and an 'architecture tragic' and he's hosted several Ozzie TV series on the theme. He has even performed a series of stand-up live shows – The Man about the House – inside some gems of Australian design including the Rose Seidler house north-west of Sydney. He's currently doing a national tour, so if you happen to be trans-Tasman in the next couple of months, book in for something daring and different. If you aren't venturing beyond the Aotearoa border anytime soon, a book such as Scorcher (which he wrote and is also on the website) might grab your fancy as a Christmas gift or holiday read. Yes, it's Australian, but it's a collection of short stories and archival photographs of summer scenes that is a hit of Antipodean nostalgia and a great stocking filler. Or, for those seriously cool friends, you will soar in the style stakes if you arrive for cocktails on the patio bearing the limited-edition 7-inch single Modernism on vinyl.
Check out
Tim's website modernisterbooks.com for all the details.

What's got us interested:
In Auckland, cyclists are lucky if they manage to find a spare telephone or power pole to secure their trusty two-wheeled steed to on their way to and from town. (Well, that's not actually fair, some train and park-and-ride bus stations have secure parking for up to 20 bicycles). But in The Hague in The Netherlands, bike parking is taken to a whole new level. An underground level that is. Designed by Silo and Studio Marsman, the new facility outside the central train station is high tech from the get-go. Cyclists access the building via wide travelators, then scan in using their equivalent of an At Hop card. It's free to park for 24 hours in this basement which looks like something from the future. With racks and racks of storage that can house 8500 cycles, the brightly lit space with ample signage feels more akin to an airport. Plus, there are rental bikes to hire if you are one of the rare citizens of this city who doesn't possess your own pair of wheels. Just for good measure, the art on the walls is a series of backlit images of some of The Hague's most well-loved architecture. The racking system is a tried-and-tested one used for decades in The Netherlands, and specially designed so that handlebars don't become entangled with your neighbours'. Finding your bicycle should be a cinch with a QR code that you could (make that should) take a photo of before you head off to enjoy your day.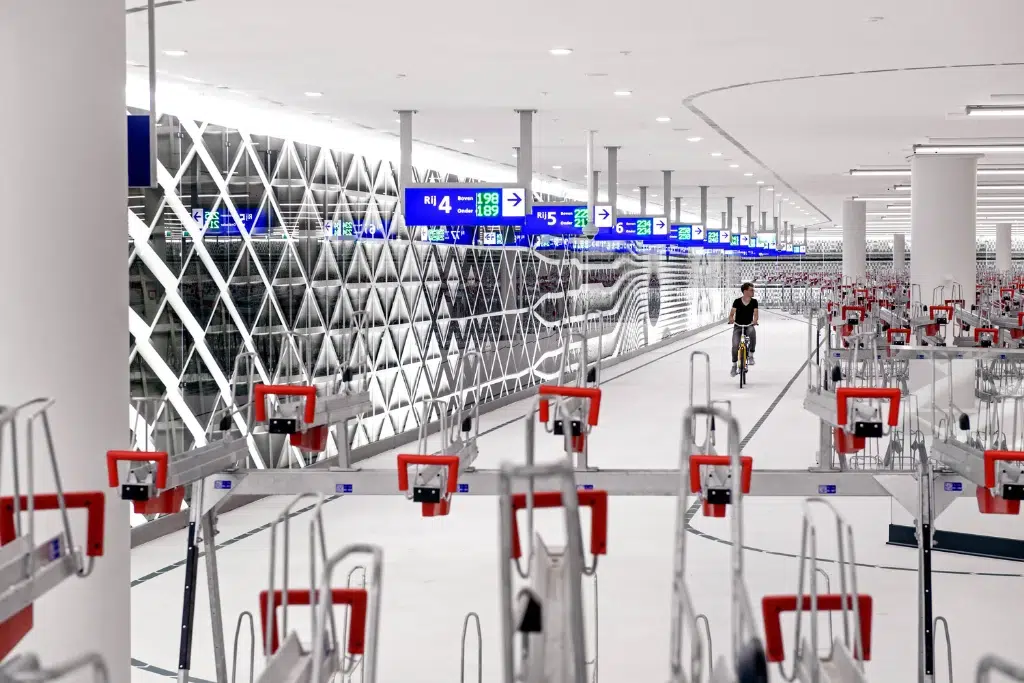 What's got us excited:
We were so pleased to read that the Christchurch Town Hall has received an enduring architecture award by the New Zealand Institute of Architects (NZIA).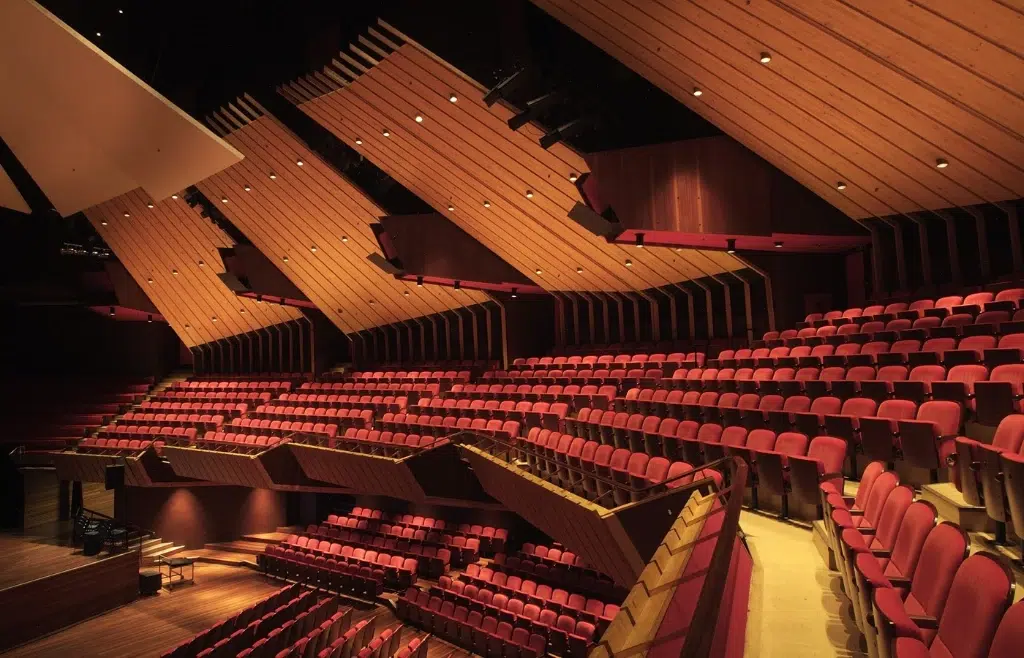 It's an incredible and pretty rare example of brutalist civic design on our shores and, when it was damaged in the 2010 and 2011 earthquakes, a plan was mooted to demolish it. Thank heavens that did not happen. It would have been a travesty. Built in 1972, the building presents a suitably formidable concrete exterior, but inside it is nuanced and richly textural. It was designed by Sir Miles Warren and Maurice Mahoney, a team whose talent significantly shaped the urban fabric of New Zealand's garden city. Not only did they craft its magnificent auditorium (renowned for its acoustics), but they apparently chose each and every material inside from the white marble floors which contrast the dark timber features to the colour of the carpet (red) and the lampshades (glass globes) and even the curtains (a Marimekko print). As part of the $167 million repair and seismic strengthening project post-earthquake, a mural by Pat Hanly entitled Rainbow Pieces and made up of 50 panels was restored. It now hangs in the upstairs foyer. If you're in town and the building is open, go in, walk around and drink in the design. It really is worth a look.